About Call From the Web service
Call From the Web service (AKA webcall) allows you to receive your customers' phone calls directly from your web site or home page. There's no need to install additinal software (like SIP phones). Your customers (or those who surf your web pages) do not even need a Google Talk installed. Only requirement is to have an ordinary or a mobile phone. There are four call schemes are possible with our webcall service:
Customer phone -> Your phone,
Customer GTalk -> Your phone,
Customer phone -> Your GTalk,
Customer GTalk -> Your GTalk.
Complete privacy is guaranteed, neither you nor your customer may not know each other's phone numbers or GTalk IDs. This is also a very easy to use service. All you need is just to put a small

icon into your contact list or in goods description you sell.
Example of use Call From the Web service
To try and use webcall service you have to pass following steps:
Step 1. We require you to have a gmail ID to use our webcall service, which is only used as unique client identifier. Subscribe to service in one of the possible ways:
1st Way. Open your GoogleTalk and invite new recepient whose user id is .
2nd Way. Go to the main page of this site and submit your user id by pressing "Subscribe me to services" button, then accept invitation from .
Step 2. Go to your personal page following link given to you by service after you issue MYPAGE command.
Step 3. On your personal page follow a link "Setup your own call from the web service".
Step 4. Define your credentials:
Your phone number or GTalk ID: give your call destination address here. It is possible to send calls to your GoogleTalk (GTalk ID) or to your phone number. If you put phone number, please give it in E.164 format. This means, your phone number must contain country code, area code and local phone number. Do not put leading zeros (00) in your number. Good example is: -, where 1 - country code for U.S.A., 650 - area code for California Mountain View, - is local phone number. Here's anothe example for China: 8-.
Your name or description of your service: Give some text here describing you, your service or goods you sell. This text will be displayed to web surfer who would like to call you.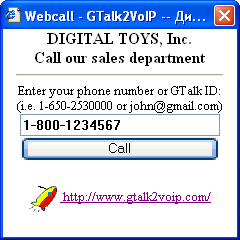 Step 5. After you save your credentials, you would like to make test calls to your service. To do that, click on a small

icon below the HTML code. On clicking, the call initiating window will appear, which looks like on the picture.
Give some test phone number, it might be your cellular phone.
Press "Call". If number entered correctly you will get your cell phone ringing in a few seconds.
After you pick-up the call, you will hear a calling tone. This means a remote party is calls, which is actually a phone number or a Google Talk ID you gave while setting up the service.
After remote is picked up, a connecton is established between your testing phone and service phone (or GTalk).
Step 6. Put some links or HTML code on to your web pages to attract web surfers to make calls to your service. Required HTML code is displayed in a frame on setup page. You may customize this code for your own needs.
Please note...
Every time you change your credentials a new link is generated, so you have to make apropriate changes on your web pages.
You will be charged almost a double cost for each call, since it is required to setup two calls actually: one is to your service, another one is to your customer.
Calls are routed through voice service providers you voted for. If you did not vote, the best route is chosen according to ratings and ASR.
Billing is carried on per-second basis.
No free prepending seconds given.
Call is not charged if remote does not pickup phone (not answer).
This service is not expected to be used for emergency calls.
Now, happy calling and talking.
Send all your questions and ideas for further service improvements to GTalk2VoIP TEAM. We would certainly like to hear from y ou!
If you've tested and liked our services, please let your friends know about it, send them a voice mail. Thank you.