<![if !vml]>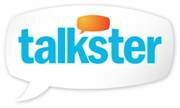 <![endif]>PRESS RELEASE
Talkster powers free international and long distance calls for GTalk2VoIP
Callers from any country can now use Talkster to talk for free
TORONTO—June 30, 2008— Voice 2.0 company, Talkster (www.Talkster.com), today officially launched its integration with GTalk2VoIP, offering callers worldwide free international,  long distance and group conference calls.  Talkster's partnership with GTalk2VoIP extends the company's ad-supported free calling service from 30 countries to cover the entire globe.
The partnership between Talkster and GTalk2VoIp allows callers from any country in the world to leverage Google Talk to make free calls to or from anywhere else in the world. Now, if the country you are calling to or from is not included in Talkster's network of more than 30 countries worldwide, you can simply use Google Talk to call the Talkster number provided to make your portion of the call completely free. 
Especially beneficial to areas with strictly regulated VoIP and telecom practices, such as India and United Arab Emirates, using Talkster through GTalk2VoIP will let people communicate freely between mobile phones, landlines and PCs, even in countries not currently supported through Talkster's ad supported free calling service.   
"In Africa, the Middle East and other places with restrictive VoIP laws, Talkster for GTalk2VoIP offers free calling without any red tape," said Talkster COO and co-founder, James Wanless. "Our mission is to bring ad-supported free telephony to the world, yet Talkster is constantly receiving requests for countries where access numbers aren't yet available.  It was important for Talkster to find a way to serve the global community, and our integration with GTalk2VoIP gives anyone in any country a way to talk to family and friends all around the world without incurring long distance and international calling charges."
GTalk2VoIP is a free and publicly open voice gateway for major Instant Messenger clients. It makes it possible for people to use instant messenger services, including Google Talk, to call people on regular phones, without requiring any additional software, establishing new accounts or paying any further fees.   
"The idea behind GTalk2VoIP is not only to provide outgoing calls from GoogleTalk to ordinary telephone numbers, but make them affordable while still providing the highest possible call quality," said Ruslan Zalata, Founder, GTalk2VoIP. "Our partnership with Talkster brings even more value to what we are offering our users, because now they can use GTalk2VoIP to make completely free unlimited international calls to any phone, landline or mobile, with no registration or credit card required. This is like the holy grail for many of our users who are spending a fortune on long distance and international calls."
 How to use Talkster with GTalk2VoIP from your computer:
<![if !supportLists]>- <![endif]>Set-up your free Google Talk and Gmail account. 
<![if !supportLists]>- <![endif]>Launch Google Talk on your desktop
<![if !supportLists]>- <![endif]>Add friends as you normally would: click on the "Add" button to add a friend
<![if !supportLists]>- <![endif]>Type in the phone number of the person you want to call in the following format, using their full phone number including country code and area code.
<![if !supportLists]>o <![endif]>.com
<![if !supportLists]>- <![endif]>Talkster generates a local number for your friend in the country you are calling. Your friend will use this phone number to call-in to be connected with you.
<![if !supportLists]>- <![endif]>If you are calling your friend on a mobile phone, they will receive an SMS with their Talkster call-in number for you. Otherwise, let them know the Talkster number by IM or email.
When away from their computers callers can use Talkster's Free World Dialing with GTalk2VoIP from their mobile phones by downloading Talkonaut, a free mobile client. Callers can download the Talkonaut software at www.Talkonaut.com. The Talkonaut mobile client works over GPRS, 3G or WiFi allowing callers to utilize their data plan if they choose. With Talkonaut callers can use Talkster's Free World Dialing with GTalk2VoIP to make free international, long distance, and group calls directly from their mobile phones for free.
All Talkster calls are ad-supported, so users don't pay long distance or international calling charges, and can talk as long as they like for the cost of a single local call. Callers listen to a 10-second audio ad prior to the start of their call and their talk time is never limited or interrupted. The ads are localized with relevant offers and coupons, bringing the caller something valuable in addition to reducing their phone costs and providing excellent call quality.
"This partnership is just one example of how the Talkster ad-supported voice platform can be leveraged by third parties to offer free calling to customers," added Wanless. "Talkster's platform and open API makes it simple for any online site, from social networks to online classifieds to easily offer users free ad-supported calling as a value added service with no risk or infrastructure investment. Talkster also makes it simple for these companies to monetize their offerings through advertising revenue sharing, making the Talkster platform an easy way for brands to build both value and revenue."
About Talkster
Talkster's award winning voice technologies are revolutionizing ad-supported telephony with a fully sustainable mobile advertising supported business model which benefits both callers and advertisers. Talkster's Free World Dialing™ is the only service for making long distance, international, and group conference calls from any type of phone, on any network, for the cost of a local call. For more information visit Talkster on the Web at www.Talkster.com, from your mobile phone at http://free.talkster.com, or from your iPhone at http://i.talkster.com. 
About GTalk2VoIP
GTalk2VoIP is a free and publicly open voice gateway for major Instant Messenger clients which enables voice interoperability between Google Talk, MSN/Live Messenger, Yahoo! Messenger and SIP phones without any additional software installation. Originally, the gateway was developed with Google Talk support only, from which it derived its name. Though all GTalk2VoIP services can be used from IM accounts without any additional downloads, the team developed its Talkonaut mobile software to expand its capabilities and to offer callers a Google Talk like application for mobile phones. Talkonaut makes it possible to chat and make voice calls to IM clients, SIP phones and any phone number in the world, all from your mobile phone. For more information on GTalk2VoIP and Talkonaut visit  gtalk2voip.com.
###
Media Contact
Melissa Burns
Mobility Public Relations for Talkster
20-4849