This service is NOT provided by Google.
The company providing this service is NOT affiliated with Google either.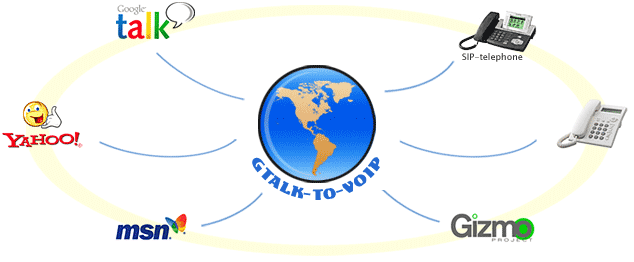 Cheap calls from Talkonaut to any telephone numbers throgh a number of VoIP carriers.
Incoming calls to Talkonaut from any phone number (PSTN DID assignment).
Sending SMS messages from Talkonaut to any mobile phone number.
Free voice services available for all major IM clients:
Voice calls between Google Talk, MSN/Live Messenger and Yahoo!
Voice mail service, interoparable between major IM clients.
Voice conferencing: with any number of participants of any IM type.
Sending off-line messages and notifications.
Calling SIP phones and SIP services.
Receiving calls to your IM from any SIP phone.
Receiving calls to your IM from mobile or landline phones using SIP Broker.
Receiving calls to your IM from web users.
Free toll-free calling to , , and numbers via SIP Broker.
Information for VoIP service providers


We do offer a number of colaboration services for VoIP businesses, like:
PSTN termination to your equipment.
VoIM termination from your equipment to our users.
Great discount for Talkonaut!
New discounted rate for India Mobile
is now as low as 2 cents/min
Read more...